What kind of retirement
do I want?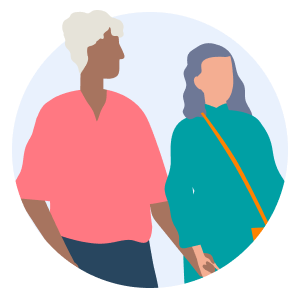 You might have started thinking about all the things you want to do when you stop working. But what practical steps can you take to secure a comfortable retirement?
How do you imagine yourself in retirement?
Building a secure retirement can take some thought. That's why you should think about the things you'll need and want, and how to make it a reality. Here are some key questions that will help you start planning your future.
When do you want to retire? While many stop working at 65, this could rise in the coming years, and retiring on a set date isn't that common anymore. Log in to your online account to find out how to check and change your retirement date.
Will you want to carry on living in your current home? Or do you plan to sell your property and use the proceeds to help fund your retirement?
What sort of things do you see yourself doing in later life? Will you be able to enjoy the same standard of living you have now if you don't have income from a job?
Will you have enough in your pension pot to afford life's basic necessities and luxuries? Get a clearer idea of how much these things might cost you by viewing the graph below.

How we work out the cost of living
To help you bridge the gap between your working life and retirement, we've put together six points you might not have considered.
Case study - Jo Goldsmith, Executive Assistant
Watch the video and read how individuals like Jo are preparing for their retirement with Nest.
Jo Goldsmith, 40, lives in London with her husband and two sons. After moving from contract to contract in temporary roles, she's worked as an executive assistant at a telecoms company for the last five years. She was enrolled into Nest, and it's the first time she's had a pension.
Like most people, Jo didn't spend much time thinking about retirement or a pension in her twenties. Looking back, she wishes she'd started saving sooner and had access to targeted information when she was younger. This would have helped her realise how important it is to pay into a pension.

"When I retire I'd like to think I'll have the financial security to do the things that I haven't been able to do now, like travel."
Jo Goldsmith,
Executive Assistant
Jo is now interested in moving her money into the Nest High Risk Fund to try and grow her savings more quickly. She hopes to pay more into her pot when she has more disposable income in the future.
Where does the £10,000 annual figure for basic living costs come from?
The Minimum Income Standard for the UK is calculated by how much money people need based on public views about a minimum standard of living that nobody should fall below.
The figure of around £10,000 is for a single person – a retired couple need about £14,300 a year between them.
What the figure includes:
It assumes that during retirement, once your mortgage is paid off, you should be able to afford standard outgoings (food, gas, electricity, etc.). You should also be able to make some personal purchases, have a social life, enjoy a week's holiday, and still be able to pay for everyday technology such as mobile phones and internet access.
What the figure doesn't include:
It does not include things beyond what is seen as necessary for an acceptable lifestyle once you retire, e.g. - a car or TV packages. It also assumes spending on discretionary items, such as eating out, will be fairly low.
If you'll be paying a mortgage or rent in retirement you will need to factor in these costs separately.
For a more personalised figure that suits you and your family, you can use the online calculator at http://www.minimumincome.org.uk/.
Luxury costs
2-week annual holiday. The £10,000 figure for basic living costs already budgets for a one-week UK holiday. If you'd like to enjoy a two-week holiday every year in Europe or the UK, you would have to allow for an additional cost of £2,500.
Car + 5-yearly upgrade. For a new car worth £14,000, UK motorists annually spend an average of £1,660 on running costs* (and to replace it every five years you'll have to save around £2,800 a year).
*Source: Money Advice Service. You can use the Money Advice Service's Car Costs calculator to find how much it costs to run a car.
Social activity. Whether it's dinner, drinks or attending a show, the £10,000 figure includes a budget of £40.68 per week for activities. However, if you enjoy going out more regularly we've estimated an extra £3,000 per year, assuming 4-5 outings per month.
Shopping. Only food shopping is included in the £10,000 basic living costs figure – for non-food items such as clothing and electronics we've estimated an annual figure of £1,500.
Gym membership. The average annual gym membership costs around £400 a year.
Home improvements. One percent of the home's purchase price is commonly set aside each year for ongoing maintenance. The average house price in the UK is currently about £320,000 (May 2018*), so we have allowed for £3,200 per year for maintenance.
*Source: Zoopla https://www.zoopla.co.uk/house-prices/uk/