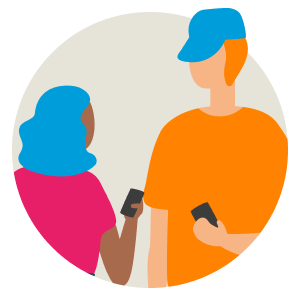 Applicable terms
These Website terms are applicable to the websites owned and controlled by the National Employment Savings Trust Corporation ('Nest') and include the websites for 'Nest', 'Nest Insight' and 'Nest views'. These Website terms along with our Privacy policy and our Cookies policy outline how you can use this website at nestpensions.org.uk, nestinsight.org.uk, nestviews.org.uk (collectively referred to as 'the websites' or 'these websites' or 'our websites'). These terms apply whether you're using the site as a guest, a registered Nest employer, member, nominated delegate, Nest Connector or payroll software provider.
All references to 'Nest', 'Nest Insight', and 'Nest views', 'we' and 'us' are all references to the National Employment Savings Trust Corporation.
Read these terms carefully. By using these websites you acknowledge and accept these terms. If you don't accept these terms, please don't use these websites. On each occasion that you access these websites you'll be deemed to have accepted the terms.
Changes to these terms and the website
We may revise these terms at any time without notice by updating our websites. You should check the websites from time to time to review the current terms. Your use of our websites following any such changes will be viewed as your acceptance of the revised terms. Certain parts of these terms may be supplemented by specific legal notices or terms located on particular pages of our websites.
We may also update the pages of, and information on, the websites from time to time. We don't guarantee that any of the content on our site is up-to-date or free from errors or omissions.
Website purpose
The purpose of the websites is to educate interested parties about the Nest pension scheme and Nest Corporation and to also inform of developments in the wider pensions industry.
It also allows participating employers and their representatives, including delegates, to administer their accounts. It also enables members and their representatives to manage their retirement pots online.
You may access most areas of our websites without registering your details with us. Certain areas of the websites are only open to you if you're a member, a participating employer or an authorised representative of either, for example a delegate or a Nest Connector.
Availability and access
You're responsible for configuring your own information technology/computer systems, programs and platforms in order to access our websites. You're also responsible for ensuring others who access the websites through your internet connection comply with these terms.
We take all reasonable steps to ensure that our websites are always available, but we won't be held liable if for any reason it's unavailable for any period. We may also have to suspend access to the website without notice for routine or emergency updates and maintenance.
While we make every effort to ensure the websites are available and secure, given the nature of the internet, we can't warrant or guarantee that this will always be the case.
We won't be held responsible for any technical problems you may suffer as a result of using our websites.
From time to time we may launch services, software, features, tools, interactive services or applications ('Applications') that work with Nest and/or our websites. Where we make the Applications available to you without charge, these are provided 'as is'. We make no warranty of any kind, express or implied, that the Applications will be suitable for your requirements or free from defects or errors. We may make changes and enhancements to the applications from time to time and we don't guarantee that future versions will be compatible with any other software or equipment operated by you. Your use of any Applications is entirely at your own risk and we accept no liability, whether in contract, tort or otherwise, arising from, out of or in connection with your use of the Applications.
Account and password
If you have an account with Nest, you'll choose a username, password, PIN and user identification questions and answers. These will be treated as confidential by you and you agree not to disclose these details to any third party.
If you delegate access to your account to someone else, as permitted by us, you're still responsible and liable for anything they do in relation to your account. You're also responsible for making sure they meet any legal or regulatory requirements, such as data protection laws.
If you delegate access to your account to someone else and they have the permissions needed, we'll act on their instructions.
If we get conflicting instructions from those with delegated access to your account, we'll act on the basis of the latest instruction we receive. The only circumstances where we won't act on the latest instruction are if it's not practical to act on such instruction.
If you're a member or an employer registered with the Nest pension scheme and are concerned that someone else is using or knows your username, password, PIN or user identification questions and answers, you must notify us promptly at 0300 020 0090.
We may disable your account and/or any username, password, PIN or user identification questions and answers should you fail to comply with any of the provisions of these terms of use.
We have the right, at any time, to disable any user identification code or password whether chosen by you or allocated by us if, in our reasonable opinion, you have failed to comply with any of these website terms
Information provided on the website
We take all reasonable steps to ensure that the information contained within our websites are clear, accurate, easy to use and updated regularly. However, we can't make any representations or give any warranties or guarantees that this is the case. We don't accept any liability for any loss or damage caused by any use of, or reliance on, the information on our websites, or any errors or omission in the content.
All information provided on our websites are provided for general information only. You shouldn't take any content on it as constituting financial or other professional advice in any way. You should consult a financial adviser or other professional adviser if you want this type of advice and in particular if you intend to take any action on the basis of such website content.
Any views expressed by third parties through our websites are the views of the individual author or speaker and may not reflect the views of Nest. We provide such views for your information.
In particular, our websites provide certain information on tax relief and National Insurance. This information is provided to help in managing your account with Nest. Members remain personally responsible for ensuring that they comply with the current tax regime and employers need to ensure they comply with paragraph 4.1.3 of the Nest employer terms and conditions (PDF) when enrolling workers into Nest.
If you need help reading PDF documents, please visit our accessibility page.
Written communications
While we take reasonable steps to ensure the emails you send to us will be received, we can't guarantee this. We also can't guarantee that the content of the emails you send to us will stay private or unchanged between being sent by you and received by us.
Intellectual property rights
Our websites, including the screens displaying the pages, the information and material shown on those pages and their design are the property of Nest Corporation or its licensors unless otherwise indicated.
You may download any page, form, attachments, video or sound clip as long as you don't change the contents of the download in any way and you acknowledge the source of these materials. You may not create derivative works of any material or content from these websites.
You must not use any part of the content on our websites for commercial purposes without obtaining a licence to do so from us or our licensors.
The name Nest and our logos are UK registered trademarks and European Union trademarks of Nest Corporation and are also used and recognised in EU member states.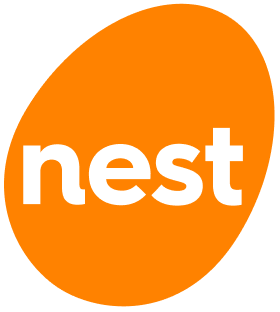 We also hold, and use, a number of other UK registered trademarks. These include the terms 'Nest', 'Nest CONNECT' 'Nest Insight' and 'Nest CONNECTOR', as well as devices such as bird and egg icons. We also own copyrights in articles and publications as shown by the copyright © marks.
You're not allowed to use these trademarks or copyright materials without receiving our permission beforehand. Nest Corporation may also claim rights in other trademarks, copyrights, service marks, logos and icons shown on these website.
If you breach or we suspect that you've breached our copyright, or infringed our trademarks or unregistered trade names, logos or straplines, we're entitled to bring any legal action we think necessary to protect these intellectual property rights.
Links from our website
Where the websites contain links to other sites and resources provided by third parties, these are provided for your information only. We have no control over the contents of those sites or resources. By including them on our websites we aren't endorsing or making any representations regarding them, any material found within them or any results you may obtain by using them.
We cannot be responsible for the protection and privacy of any information that you provide while visiting such third-party websites or interactive websites and we disclaim all liability, howsoever occurring, in respect of the content or operation of any such third-party website.
Interactive Services and Social Media Channels
We may from time to time provide links to interactive services or links to social media channels on our websites (without obligation to continue such services or links), including, without limitation:
Chat rooms
LinkedIn
Twitter
Facebook.
We'll use such links or social media channels to:
make and share announcements, and any events Nest is taking part in
spread the word about Nest's scheme and its features, as well as linking to relevant content on the Nest website
share any interesting articles relating to Nest, as well as comments from key people associated with Nest
highlight Nest speakers at events run by other organisations
highlight key messages from Nest events.
We don't use any social media channels or interactive services to respond to or resolve member, employer, or other user queries or complaints. If you have an employer or member query please go to the relevant help centre below:
We cannot respond to questions or comments where it would be inappropriate for Nest as a public body to do so. We accept no responsibility for lack of or interruptions to any social media channel or technical difficulties for whatever reason. We will remove comments and may block users on all our social media channels that do not follow these policies.
We do not encourage or endorse any commercial or third-party promotions that appear on our Social Media channels.
The social media channels to which we're linked are owned by third parties and we're under no obligation to oversee, monitor or moderate these or any other interactive service that we link to on our site, and we expressly exclude our liability for any loss or damage arising from the use of any social media channel or any interactive service by a user in contravention of our content standards, whether the service is moderated or not.
Content standards
These content standards apply to any and all material which you contribute (Contribution) whether the contribution is via our websites or via links to social media or other interactive services and shall apply to each part of any contribution.
If Nest monitors the content on any such social media channel or other interactive sites, then Nest will determine, in its sole discretion, whether a contribution breaches the Content Standards.
Your contribution on any Social Media channel or on any Interactive Services must:
be accurate (where it states facts)
be genuinely held (where it states opinions)
comply with the law applicable in England and Wales and in any country from which it is posted.
Your contribution must not:
be defamatory of any person or be obscene, offensive, hateful or inflammatory
promote sexually explicit material
promote violence
promote discrimination based on race, sex, religion, nationality, disability, sexual orientation or age
infringe any copyright, database right or trade mark of any other person
be likely to deceive any person
breach any legal duty owed to a third party, such as a contractual duty or a duty of confidence
promote any illegal activity
be in contempt of court
be threatening, abuse or invade another's privacy, or cause annoyance, inconvenience or needless anxiety
be likely to harass, upset, embarrass, alarm or annoy any other person
impersonate any person or misrepresent your identity or affiliation with any person
give the impression that the Contribution emanates from Nest if this is not the case
advocate, promote, incite any party to commit, or assist any unlawful or criminal act such as (by way of example only) copyright infringement or computer misuse
contain a statement which may reasonably constitute direct or indirect encouragement or inducement to the commission, preparation or instigation of acts of criminal activity or terrorism
contain any advertising or promote any services or web links to other sites.
If you have any concerns regarding the content standards of our websites, you can raise such concerns by contacting us using the following email support@nestpensions.org.uk
Rights in the Content of Interactive Services
You retain your rights to any content that you submit or post or display on or through any Social Media channel or on our Interactive Services. However, by posting such comments (including any photos, videos or recordings), you agree to the terms of use on such third-party Social Media channels or other interactive websites and you also agree to grant Nest a non-exclusive royalty-free and worldwide licence to use, copy, reproduce, process, adapt, modify, publish and/or transmit such content in any media that we may use.
By posting any content, you represent that you have the right, licence, consents and authority to grant the rights to submit the contents to via the interactive sites and that you will be solely responsible for any failure to obtain any required rights or licence for such posting.
Links to our website
You may link to our websites, provided you don't replicate the pages of our websites, and subject to the following conditions:
you don't in any way imply that we endorse or approve any products or services other than our own
you don't misrepresent your relationship with, nor present any other false information about us
you don't use any Nest Corporation trademarks displayed on our websites or act in a manner which constitutes passing off, unless you have a trademark licence in place with us allowing such use
you don't damage our reputation or take advantage of it
you don't link from a website that is not owned by you
your website doesn't contain content that is distasteful, offensive or controversial, infringes any intellectual property rights or other rights of any other person or otherwise does not comply with all applicable laws and regulations
you must not frame our website on any other site.
If you breach, or we suspect that you've breached these terms, we reserve the right to withdraw linking permission without notice and take any action we deem appropriate.
If you want to make use of material on our websites other than what's set out above, you should send your request to support@nestpensions.org.uk.
Misuse of the websites or Interactive Services (including Social Media Channels)
You must not use our websites, any Social Media channels or our Interactive Services in any way that causes or is likely to cause the websites, and/or access to them to be interrupted, damaged or otherwise interfered with. In particular you must use our websites for legitimate purposes only. You must not use it in connection with any fraudulent or unlawful activity.
You must not or allow any other person to:
use our websites in any way that breaches any applicable law or regulation or is fraudulent or has any unlawful or fraudulent purpose or effect
disassemble any part of the websites or their content or any software used in connection with the websites
misuse the websites by hacking or sending or distributing multiple unsolicited junk emails or messages, chain letters or otherwise disrupt the service of the networks through which we have access
use the websites for any commercial, profit-making or re-sale purposes, or sending unsolicited or unauthorised advertising or promotional material or any other form of similar solicitation (spam) except so far as any solicitation is permitted by us if you act as a Nest Connector. This includes systematic extraction or re-use of any part of a service or its content
gain unauthorised access to the websites, the server on which these websites are stored, or any server, computer or database connected to the websites
attack the websites by attempting to prevent it from working, or by knowingly introducing viruses, trojans, worms, logic bombs, keystroke loggers, spyware, adware or other material or which is malicious or is technologically harmful or is designed to adversely affect the operation of any computer software or hardware.
By doing or attempting to do any of the acts listed above you may be committing a criminal offence under the Computer Misuse Act 1990 (as amended or superseded). We'll report any breach of this Act to the relevant law enforcement authorities. We'll also co-operate with those authorities by letting them know your identity.
In the event of a breach or a suspected breach we have the right to issue a warning against you. We also have the right to limit or withdraw your use of our websites immediately, either temporarily or permanently. We may also bring legal proceedings against you to seek recovery of any loss, damages, administrative and legal costs or obtain other injunctive remedies. A court may ask you to pay fines and penalties. In criminal cases, you may also face a prison sentence.
We exclude our liability for any actions we may take in response to breaches of these Website Terms. The actions we may take are not limited to those described above, and we may take any other action we reasonably deem appropriate.
Viruses
We cannot guarantee that our websites will be free of viruses or defects of any description. You should use your own virus protection software.
You must not misuse our websites by knowingly introducing viruses, trojans, worms, logic bombs or other material which is malicious or technologically harmful. You must not attempt to gain unauthorised access to our websites, the server on which our site is stored, or any server, computer or database connected to our websites. You must not attack our websites via a denial-of-service attack or a distributed denial-of service attack. By breaching this provision, you would commit a criminal offence under the Computer Misuse Act 1990 (as may be amended, superseded or replaced). We'll report any such breach to the relevant law enforcement authorities and will co-operate with those authorities by disclosing your identity to them. In the event of such a breach, your right to use our websites will cease immediately.
Liability
Nest Corporation, any other party (whether or not involved in creating, producing, maintaining or delivering this website), and the officers, directors, employees, shareholders or agents of any of them, exclude all liability and responsibility for any amount or kind of loss or damage that may result to you or a third party (including without limitation, all indirect, punitive or consequential loss or damages, or any direct loss of income, profits, sales, revenues, business, goodwill, data, or loss or damage arising from or connected in any way to business interruption, and whether in tort (including without limitation negligence, contract or otherwise) in any way or in connection with:
our websites
any Interactive Services or Social Media channels that we provide or link to
the use, inability to use, or the results of use of our websites
any reliance on any content displayed on our websites
any websites linked to our websites or the material on such websites
your downloading of any material from our websites or any websites linked to our websites
viruses that may infect your computer equipment, software, data or other property because of your access to, use of, or browsing our websites.
Nothing in these terms shall exclude or limit our liability for:
death or personal injury caused by our negligence (as defined by the Unfair Contract Terms Act 1977)
fraud
misrepresentation as to a fundamental matter
any other liability which cannot be excluded or limited under English law.
You agree to financially cover us against all losses, liabilities, costs, damages and/or expenses reasonably suffered or incurred by us, including any damages awarded against us under any court judgment, or as may be reasonably agreed to be paid by us in settlement of any claim in connection with your breach of these terms, including:
any claim by any third party as a result of your breach of these terms
any fines or penalties imposed by any regulatory, advertising or trading body or authority in connection with your breach of these terms.
Third party rights
Nothing in these terms confers on any third party any benefits under the provisions of the Contracts (Rights of Third Parties) Act 1999. This does not affect any of your other rights.
Waiver
If you breach these terms and we take no immediate action, we'll still be entitled to use our rights and remedies at a later date or in other situations or occasions where you're in breach.
Invalidity of a term
If any part of any of these terms is found not to be enforceable, such term, or part of a term, shall not apply to the extent that its removal does not affect the validity of the remainder of these terms, or parts of them.
Governing law for these terms
These Website terms will be governed by and interpreted in accordance with the laws of England. The English and Welsh courts will have exclusive jurisdiction to resolve any disputes in relation to the website terms and conditions.
Your concerns
If you have any concerns about the information that appears on our website or Nest, please contact support@nestpensions.org.uk or Nest, Nene Hall, Lynch Wood Business Park, Peterborough, PE2 6FY.
If you have any query about these terms, please contact secretariat@nestcorporation.org.uk or Secretariat, Nest Corporation, 10 South Colonnade, Canary Wharf, London, E14 4PU.